Home | Government | Parks & Recreation




In 1983, in her will Bertha Degginger left to the city of Highland ground on Main Street to be used for a park. Several years later in 1989 a number of Kansas State students came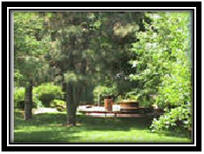 to Highland (the students stayed with local residents) to help design a park . It was decided to name the park Degginger Park in honor of Miss Degginger. Later realizing that more flowers needed to be planted in the park, Marian Thompson, who was PRIDE president, arranged for different clubs, organizations and individuals to each adopt a pod and be responsible for the flowers in their pods. A neighbor, Russ Goodin, has been watering the pods. The city mows the grounds and the Neal Bauer family has provided funds to keep the fountain flowing. Highland is proud of the park, and many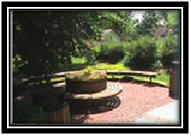 community picnics are held in the park. Anyone desiring to use the park should feel free to do so.

Bertha Degginger and her brother Clyde were born in Sparks, but moved to Highland at an early age and resided on the ground where the park is located. Bertha lived the last years of her life in Kansas City. At one time a bandstand was built on this land and the Highland Summer Band held concerts each Saturday night.
Highland Community Ball Park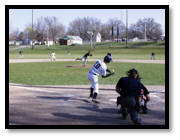 Highland Community College practices and plays on the Highland Community Ball Park, which is owned by the City of Highland, Kansas. In the fall of 1998, the Scottie Booster Club received permission to re-grade and install a grass infield on the ball park. Ag-lime base paths were installed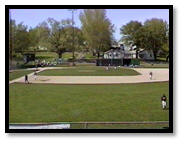 to give a playable field during rainy weather. The Highland Community Ball Park is now one of the top baseball facilities in the Jayhawk Conference. The outfield fence distances are 350' in left, 400' center, 350' right with 375' power alleys. The Ball Park is located adjacent to Kessinger Field, HCC's Football & Track complex.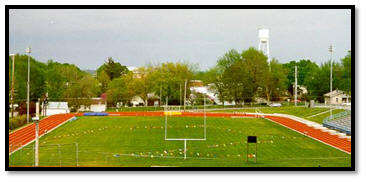 Kessinger Field
Contact Us
City Hall
PO Box 387
220 West Main St.
Highland, Kansas 66035
Voice:

785-442-3765
Fax:

785-444-2489
joann@cityofhighlandks.com
FIRE
Non-Emergency:

785-442-3838
Emergency:

9-1-1
POLICE
Non-Emergency:

785-442-3212
Emergency:

9-1-1
View Map
Recreation Director Position

Responsibilities of Director
Job Application