Home | Resident Resources | Community Center


The Highland Community Center
"A Great Place to Gather"
Click here for a printable brochure (pdf)

Click here for a printable application (pdf)

Click here for a printable Alcohol Permit (.pdf)

Click here for a printable User Checklist (.pdf)






The Community Center located at 501 West Ave. opened in June of 2009. With 4,500 square feet and a capacity of 300, the Center features two rooms great for business meetings, wedding receptions, civic groups, <![if !vml]>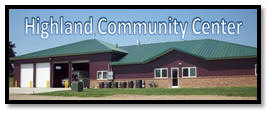 <![endif]>community functions, fundraising, birthdays, family gatherings and much more. Available for use are 17-8' oblong tables, 17-60" round tables, 1-9' oblong table with 265 chairs; wifi projector w/screen, salad bar, 2 water/tea coolers, 2 roasters and more.

Also, included in the rental of the Community Center is the use of a fully equipped kitchen which includes a commercial stove and refrigerator, three bay stainless steel sink, serving window with multiple single circuit plug-ins to run your roasters and an ice maker for all the ice you'll need at any function.

A great time to meet with your caterer, DJ or wedding planner is during a scheduled tour. A facility representative will be on hand to answer questions you may have regarding facility rental. This is a good opportunity to receive and complete a Use Application and Agreement. Joann Karn, facility manager, will normally be the individual to provide access to the facility. Functions are to be scheduled through City Hall.
To Schedule a Date

Contact:

Highland City Hall (785) 442-3765

Rental Rates and Information

Complete details at City Hall

Reservation/Damage Deposit:

Double the amount

of applicable use

& permit fee

Daily Facility Use Fee:

4 - 18 hours:

$150.00

Up to 4 hours:

$60.00

Up to 2 hours:

$40.00

Alcohol Permit:

$100.00

Non-Profit:

½ Use Fee

Usage fee doubles for non-Doniphan County Fire District #2 residents.

Additional Fees

Cleaning fee:

$25/person/hr

For any required cleaning

Damages:

Actual

Penalty Rate:

$25.00

General Rules and Regulations

A refundable damage deposit and rental fees are due at the time of reservation

Access to the facility and lock-up shall be conducted by the facility manager – no key will be provided. City retains the right to enter the premises at any time


Decorations require prior approval by the facility manager

Any portion of the facility used by the client shall thoroughly be cleaned and left in the same condition prior to use

No smoking is allowed in the center

All groups must vacate the center by the end of their contract time or additional fees will apply


Any facility use shall be in accordance with local, state and federal law