Home | Resident Resources | City History



History of Highland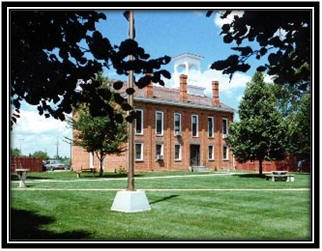 The history of Highland begins with the Iowa and Sac & Fox Mission, established in 1837 by Reverend Samuel and Eliza Irvin and Reverend William and Julia Hamilton. The mission was sponsored by the Presbyterians. A portion of the original mission still stands two miles east of Highland and is operated by the Kansas State Historical Society as a self-guided, drive-through historic site marked with interpretive signs. The building itself is closed.

Reverend Irvin also established the first structure on what is now the campus of Highland Community College. The building, Irvin Hall, has been in use ever since and is listed on the Historic American Building Survey. The college was chartered in 1858 and is the oldest institution of higher education in Kansas. HCC thrives today and provides a variety of excellent educational opportunities for people in northeast Kansas and beyond.





The Highland Presbyterian Church began from Father Irvin's mission in 1843. The present building was dedicated in l914 and was later united with the Methodist Church to form the present Highland United Methodist Presbyterian Church. The Highland Christian Church, Disciples of Christ, celebrated its centennial in 1984. In addition, St. Martha's African Methodist Episcopal Church building, constructed in 1882, is listed on the National Register of Historic Places. Highland is also home of the oldest Masonic Lodge in Kansas, Smithton Lodge No. 1 A.F. & A.M., organized in 1854 and chartered in 1856.





Highland has a long, rich history and looks forward to a future full of promise for a good life.
Quick Links
Gray's Doniphan County History
Doniphan County, Kansas, GenWeb
Doniphan County History Bibliography
Doniphan County, Kansas